Indian rapper Zb drop another pagla pagli 3 titled Pagla pagli 3 on his youtube channel and other music streaming platform. Here you will get Zb Pagla pagli 3 lyrics Zb.
The song Pagla pagli 3 is written by Zb and music produced by ROHIT EXE.
In this post you will get pagla pagli 3 Zb lyrics or pagla pagli 3 lyrics Zb.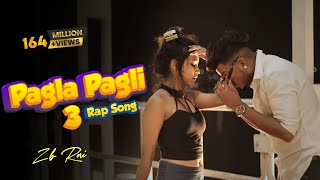 Pagla pagli 3 lyrics Zb
Tumse Shadi Racha Ke Sanam
Dekho Digha Me Aa Gaye Hum
Laaye Barely Jhumkaa Tumhare Liye
Chalo Thumka Laga Do Humare Liye
Tumhaare Liye Hum Tayor Hoke Aaye
Sona Ke Liye Sona Haar Leke Aaye
Pyare Karti Ho Tu Khul Ke Batao Bhaagogi Bolo Sidhaa Car Leke Aaye
Door Q Khadi Ho Paas Aao Na
Kiye Khaogi Tum Bato Na ?
Gajar Ka Halwa Khilaa Denge
Pehle Jaipur Ka Jalwa Dikhao Na
Samandar Ka Tufaan Me
Chalo Udne Chale Asmaan Me
Famous Momo Khilaa Denge
Tumhe Delhi Ka Dukaan Me
Nomber Do Hum Tumse Baat Karenge
Jumaa Ke Din Mulakaat Karenge
Ye Lo Fool Gulaab Ka
or Naam To Batao Maidam Apka ?
Kitno Ko Chhor Diya, Diya Nahi Bhav
Suno Meri Sona or Paas Mere Aao
Digha Main Hai Paani or Paani Main Hai Nao.
Chand Bala Wala Chehera Leke Dhoop
Main Na Jao
Rehti Ho Tum Mere Shekhar Ke Paas
Khodi Ho Samundar Ke Lehar Paas
Saari Pehni Ho To Jhumkaa Lagao
Samundar Ke Lehar Me Thumkaa Lagao.
Cholo Thumkaa Lagao
Thumkaa Thumkaa Laga Rahi Ho Saari Pehen Ke Tum Aa Rahi Ho
Virat Kohli Lagate Hum Dadhi Main
Tum Anushka Sahi Lagti Saari Main
Haa..
Gadi Main Tumko Gumangye
Shadi Tumhi Se Rachayege
Pyaar Karti Ho To Bhav Mat Khao
Laal Saari Wali Apna Naam To Batao
Door Q Khadi Ho Paas Aao Na
Kiya Khaogi Tum Batao Na
Gajar Ka Halwa Khila Denge
Pahle Jaipur Ka Jalwa Dikhao Na
Tum Peyari Si Papa Ki Pari Ho
Diwali Ki Boam Fooljadi Ho
Meri Sona Mona, Rani Kya Piyogi Ka Paani
Dil Ko Churana Deewana Karke
Maine Ana Coaching Bahana Karke
Boli Mummy Se Puch Ke Batayenge ,?
Agar Time Milega To Ayenge ?
Ayenge Nahi Tumko Ana Padega
Samundar Main Tumko Nahana Padega
Jo Bolenge Karke Dikhana Padega
Up Ka Thumkaa Lagana Padega
Tera Bhai ZB
Hope You Enjoyed Zb pagla pagli 3 lyrics please explore our website Hindiraplyrics for more pagla pagli 3s lyrics.